Digital Marketing Strategies In 2020
The novel coronavirus triggered the initial wave and its surf affected quite a few business spheres. Individuals under stay-at-home orders spend more time online, leading to online traffic increases. However, most of the companies are at a standstill, except those engaged in necessities, and companies are cutting costs.
What are the things you should take note of and focus on? Are there any tricks? In the video below—Digital Marketing Trends 2020—we will share with you the Digital Marketing Trends in 2020.
This video shared about getting hands-on identifying customer behaviour and segmentation, understanding SEO strategies, and driving social-media campaigns which is crucial in Digital Transformation. You'll learn the best practices to set up your digital marketing goals for your business.
Amid the outbreak of the pandemic, what should we pay attention to in 2020 especially in the digital marketing ideas and overview based on current market trends?
Well, you have to think about which digital channels your target audience is using.
-Where do they spend their time online?
-What is the customer journey to your website?
-How to generate sales leads in your small business?
Defining your target market is one that needs to focus. It's the foundation of all elements of your marketing strategy, from how you develop and name your products or services right through to the marketing channels you use to promote them.
Together we have Charles Gregory, CEO & Founder of DMC Group, Zevin Goay, COO & Co-Founder of DMC Group, Kelly Chong, CEO of DMC Solution, we hope you will be able to learn and get some inspiration for the Digital Marketing Trends 2020.
★☆★ OTHER VIDEOS YOU MIGHT LIKE 👇👇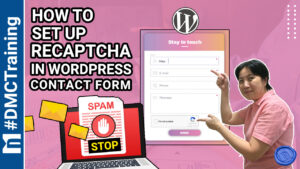 ►How To Setup reCAPTCHA In WordPress Contact Form

► How To Add Facebook Messenger To WordPress

► How To Add Whatsapp Chat In WordPress

---

♥️♥️♥️ Please subscribe to our channel, so you will be able to get notification when we launch our new video 👇👇