INTRODUCING THE 1ST DIGITAL MARKETING EXECUTIVE MASTER PROGRAM IN MALAYSIA
Malaysia is unstoppably growing as a digital economy, internet users in Malaysia are spending more time on the screens of their connected devices—particularly laptops and smartphones—than they do in front of their TVs. This rapidly expanding digital community is also the target market for brands, who want to tap into the driving force behind the Malaysian economic upturn.
The digital landscape in Malaysia is rapidly expanding, and brands are poised at the frontiers, ready to attract consumers joining the online space.
Malaysians have also been spending more time online: some 8.5 hours a day. This means audiences in the Malaysia are likely more exposed to the internet than they are to television, on which they spend 2 hours a day.
The fact that economic growth in recent years have been driven by domestic demand and private spending, these data points make a strong case for Malaysian businesses to increasingly target online audiences.
EXECUTIVE MASTER IN DIGITAL BUSINESS STRATEGY & PLANNING PROGRAM LEARNING OUTCOMES
Demonstrate continuing and advanced knowledge in digital marketing and have the capabilities to further develop or use these in new situation or multi disciplinary context.
Analyse and evaluate problems in digital marketing critically particularly in situations with limited information and to provide solutions through the application of appropriate tools and techniques.
Plan and perform market research undertakings professionally, ethically and responsibly.
Recognise the needs for continuing professional development in the field of digital marketing.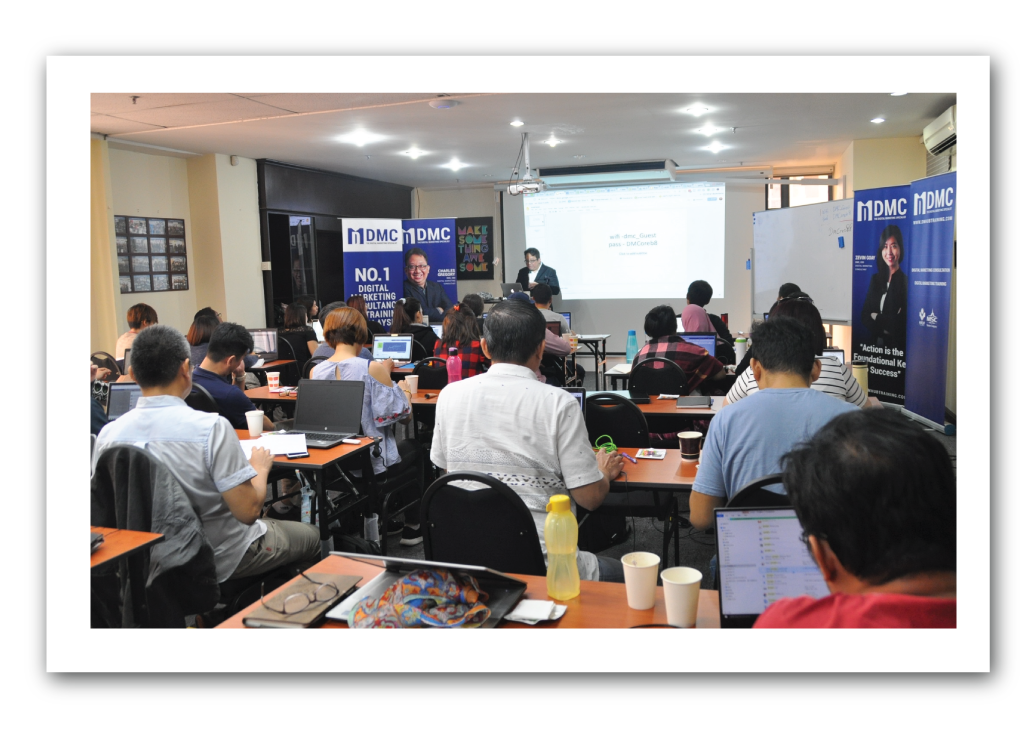 TRAINED BY INDUSTRY EXPERTS
This digital marketing course delivered 100% by industry experts, teaches the key digital marketing skills required for the modern workplace. 
PRACTICAL BUSINESS PROJECTS & CASE STUDIES
Flexible learning provides students with full control & accountability for their learning. It offers adult learners more flexible access to courses and help accelerate their learning progress
Flexible learning provides students with full control & accountability for their learning. It offers adult learners more flexible access to courses and help accelerate their learning progress
PAY UTILISING KWSP EPF ACCOUNT 2
Financial option using EPF Account 2 is available! This program is certified for EPF withdrawal. You can withdraw from EPF 2 to finance your education.
*The amount of payment that can be withdrawn is subject to the balance in your EPF 2.
THIS PROGRAM IS SPECIALLY DESIGNED FOR
Senior executives and business leaders who are responsible for shaping and implementing digital strategies within their organizations.
Professionals who want to gain a deep understanding of the digital landscape and develop strategic plans to drive digital transformation in their businesses.
Individuals who are tasked with leading digital initiatives, such as Chief Digital Officers, Chief Technology Officers, and Senior Managers in marketing, operations, or IT departments.
Professionals across various industries, including but not limited to retail, service, finance, healthcare, technology, property and consulting, who recognize the need for digital expertise in today's rapidly evolving business environment.
Entrepreneur seeking to launch a digital startup or a seasoned executive aiming to stay ahead of the digital curve, this program equips you with the knowledge and skills necessary to navigate the digital landscape and capitalize on emerging opportunities.
WHAT IS COVERED IN THIS DIGITAL MARKETING EXECUTIVE MASTER PROGRAMME?
(The module may be subject to change, depending on the availability and scheduling of trainer.)
MODULE
DIGITAL BUSINESS STRATEGY & PLANNING
Define digital strategies & plans for overall brand awareness, digital interaction & leads & sales generation.
MODULE
BUSINESS MANAGEMENT PRINCIPLES
Skills, competencies, techniques & knowledges needed to successfully manage in a organization.
MODULE
COMMUNICATION IN BUSINESS
Plan, write and review a variety of business communications vehicles.
MODULE
WEBSITE BUILDING AND OPTIMIZATION
Build & manage business website to achieve overall objectives.
MODULE
E-COMMERCE BUSINESS SETUP
Build & strategize an E-Commerce business plan for the market.
MODULE
ADVANCED CONTENT MARKETING
Content marketing funnel to trigger audience interest.
MODULE
SOCIAL MEDIA MARKETING
Stimulate business via various social media channel.
MODULE
STRATEGIC PAID ADVERTISING
Reach target customer through paid marketing with set objectives.
MODULE
ADVANCED SEARCH ENGINE OPTIMIZATION
Reach target customer through organic google search via website.
MODULE
WEBSITE & DATA ANALYTICS
Build customer segments & analyse cohort behaviour.
MODULE
CHATBOT AND MOBILE MARKETING
Automate online business inquiries.
MODULE
RESEARCH PROJECT
Enhance overall digital marketing skills through final project.
WHY CHOOSE DMC AS YOUR HIGHER EDUCATION PARTNER?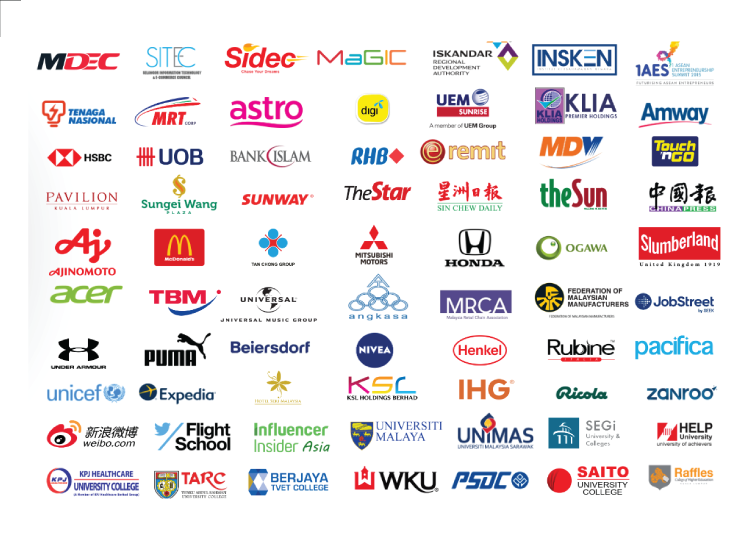 Multi-Awards Winning Digital Marketing Company. We have over 48 years of combined experience, we help organisations & individuals take advantage of the opportunities created from digital disruption. Our specialty is creating long-term digital academies to effect major change within large organisations. We use proprietary research techniques and our experience to identify your requirements and customise digital development programs. Our training philosophy is focused on highly practical knowledge that participants can use straight away. We have trained over 4,000 students and over 200 companies in Malaysia.
DMC WE ARE THE ONLY DIGITAL MARKETING TRAINING COMPANY THAT OFFERS FULL CERTIFICATIONS
We Take Care of Your Full Digital Marketing Learning Path
THE LEADING DIGITAL MARKETING EDUCATION COMPANY THAT BEING RECOGNISED BY LOCAL AUTHORITIES
Appointed By

Dr. Tun Mahathir & MyPerintis 
As Digital Marketing Industry Advisor
Launched By
Menteri Besar Selangor, Dato Seri Amirudin Shari
As Founding Team of Selangor Digital School
Token Appreciation Presented By
Minister of Human Resource, YB Datuk Seri M. Saravanan
As Forum Panels For Navigate The Changing Learning Environment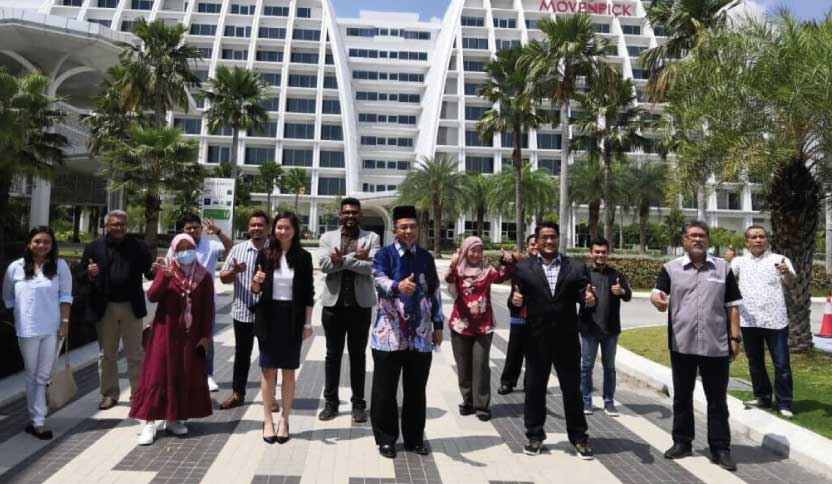 Appointed By
Malaysia Department of Skills Development (JPK)
As Digital Marketing Level 3 National Occupational Skills Standards (NOSS) Development Panel
Launched By
Malaysia Department of Skills Development (JPK)
As Digital Marketing Level 4 & 5 National Occupational Skills Standards (NOSS)  Development Panel
Certificates Appreciation Presented  By 
Minister of Human Resources – YB Datuk Seri M. Saravanan
As Penjana HRDF Training Providers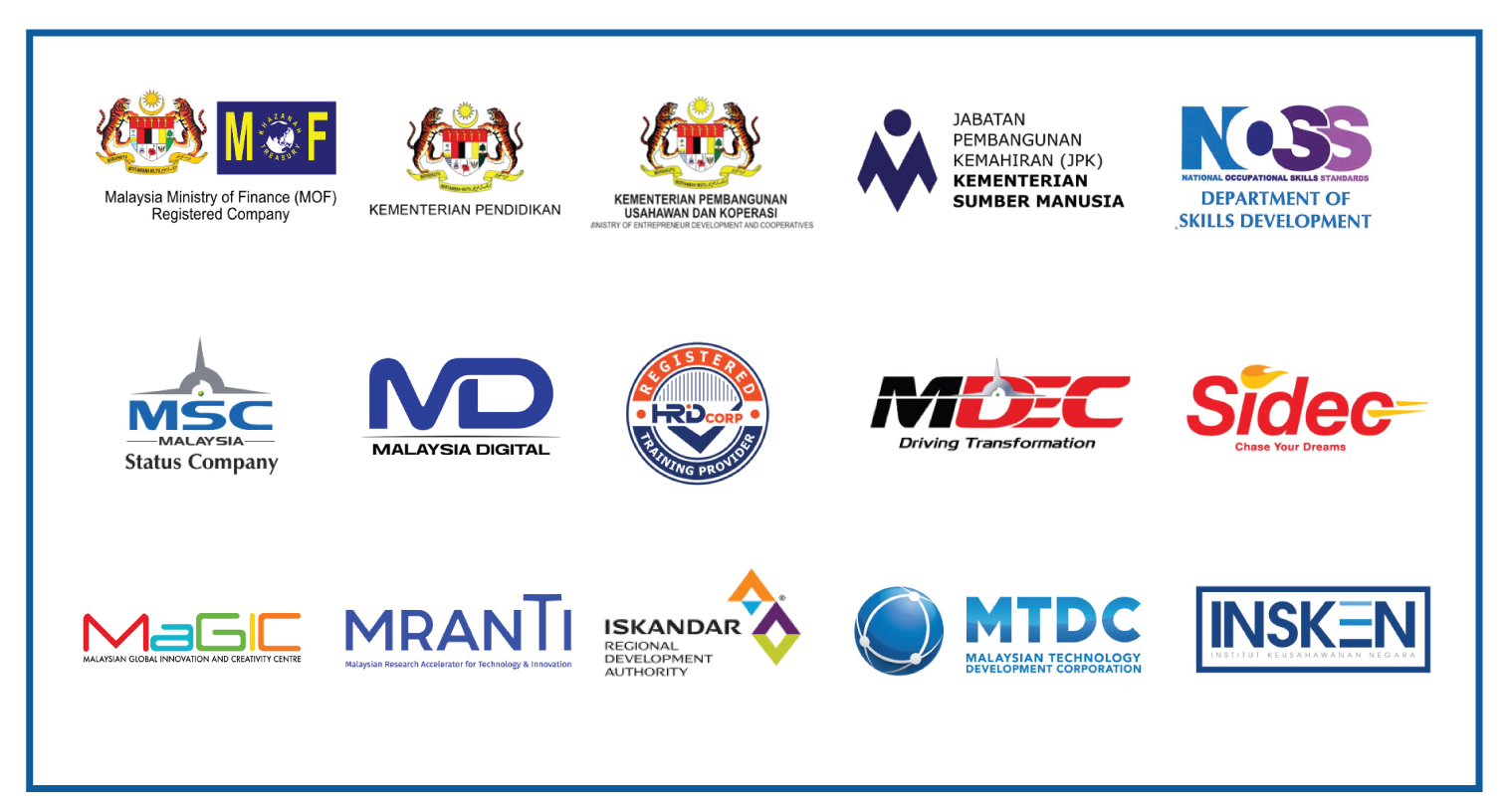 HOW CAN YOU MAXIMISE YOUR LEARNING EXPERIENCE BY JOINING THIS DIGITAL MARKETING EXECUTIVE MASTER PROGRAMME?
INTAKE IS NOW OPEN FOR 2023!
FILL UP THE FORM BELOW AND APPLY FOR AN EARLY BIRD EDUCATION SCHOLARSHIP OF RM3,000