Short Story About Our Company
DMC Training is a subsidiary of Digital Marketing Consultancy (DMC), designs strategic learning programs that specialises in providing professionals advanced career progression towards becoming a certified digital marketing professional. Equipped with real world experience and successful track record, DMC Training instructors are certified and endorsed by bodies such as HRDF to conduct courses in the following areas:
Digital marketing training and consultancy

Social media marketing training and coaching program

eCommerce business coaching

Data analysis coaching
Meet Our Best Experts
Our digital experts constantly evaluate the best ways and latest method to be implemented in digital marketing. We guide and coach you to be one step closer to success in digital marketing.
Charles Gregory
Digital Marketing Consultant
If you're looking for someone who can consult and have a vast experience in digital marketing strategies, you found the right person. Charles is a growth partner that cares about new customers, new revenue, efficient conversion, scalability, and meticulous execution.
With more than 10000 hours of training experiences, I have trained over 200 participants, coached and consulted more than 50 companies of all sizes. Charles also pioneered digital marketing strategies courses and e-learning with over 25 courses created under his company name.

Zevin Goay
Digital Marketing Consultant
Zevin Goay, Digital Marketing Consultant HRDF certified trainer. She has used her digital expertise and experience in consulting, implementing and managing digital marketing campaigns to help local companies and businesses to get an online presence. She has worked with more than hundreds of local companies from a wide range of industries including the largest departmental store in Malaysia, colleges, retails, B2B and B2C commercial or consumer services. As a digital marketing consultant, she has been working with companies to build their online brand awareness, generate leads and sales with professional digital marketing strategies.
Zevin has been involved in corporate training in focusing on Google Adwords, Social Media and digital marketing training. Zevin was also the co-speaker and spoken in Malaysia Internet Business Submit 2015 in the topic related to the Google Adwords. She is also running her own Digital Marketing Training company and has trained more than 500 individuals on Digital Marketing.
Our Mission
Transferring Digital Skills Through Education
Our Vision
No.1 Digital Marketing Training & Consultancy in Malaysia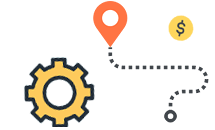 It's really a good course. All of the trainers are very helpful and supportive. Learnt a lot about Digital Marketing. Highly recommended if you want to learn more about Digital Marketing.
Can't afford to miss a single lesson as every lesson is packed with everything we need to know about digital marketing - amazing syllabus, dedicated trainers.
Very insightful training and I have learnt more than I expected. It is not just the technical part, the trainers are sharing real case studies and marketing strategies. They are all very helpful.