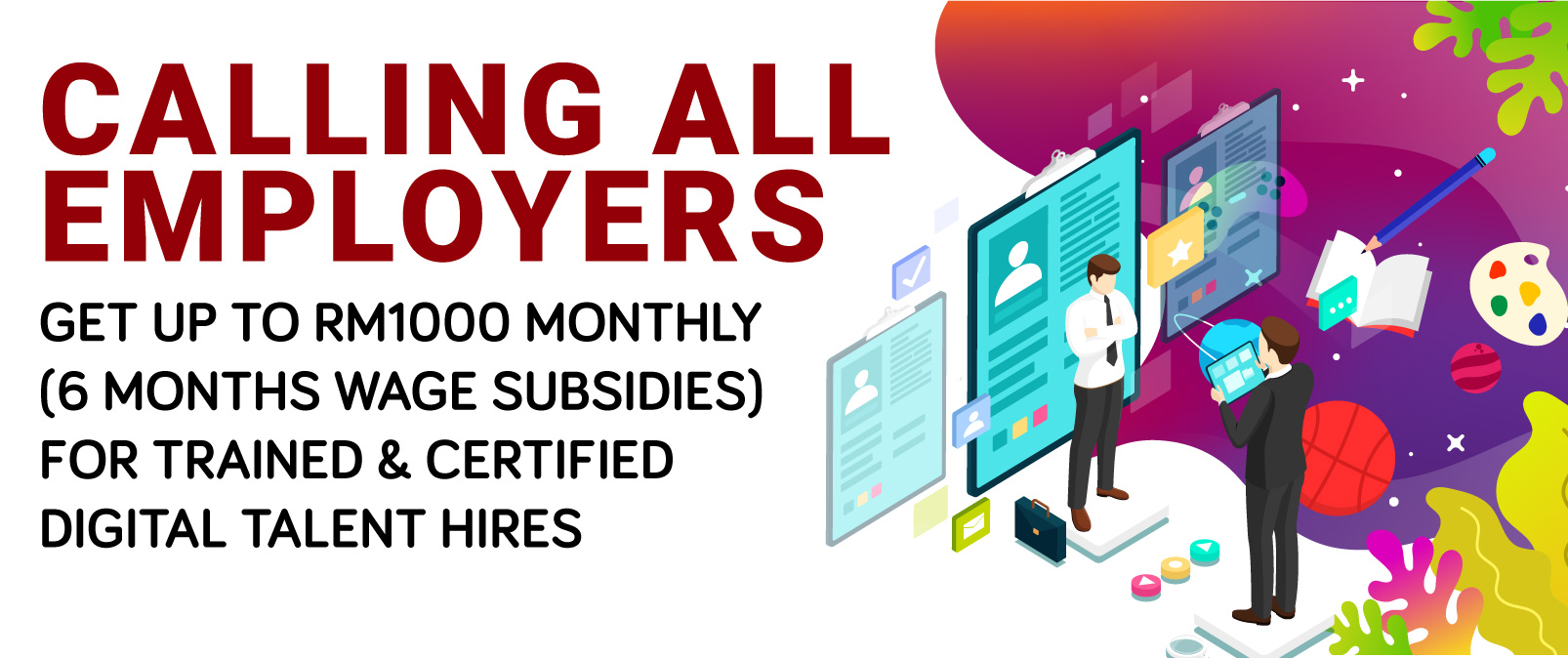 HRDF PLACE AND TRAIN INITIATIVE 2020
WHAT IS THE HRDF PLACE AND TRAIN INITIATIVE?
The Place and Train is a government initiative to provide employment and training opportunities to Malaysian unemployed graduates, school leavers and retrenched workers by participating in value-added relevant certification programmes required by the industry. Official details here. 
For employers who are seeking to hire digital talent, this is a good channel to acquire the talent through this channel.
WHAT ARE THE POTENTIAL TALENTS THAT I CAN HIRE THROUGH THIS INITIATIVE?
Employers will be offered talent who are trained in:
E-commerce
Facebook Marketing
Google Marketing
Youtube
Video Editing
SEO
Data Analyst
Instagram Marketing
TikTok Marketing
Live Streaming
Twitter Marketing
Content Marketing
Website Building
Linkedin Marketing
WHAT ARE THE BENEFITS FOR ME AS THE EMPLOYER?
HRDF will be fully funding the stated period of training according to the terms and conditions set. In addition to the funding provided to training providers.
Plus, Employers can apply for additional financial assistance for up to 6 months for salary subsidies for the new hire.
Government 6 Months Wage Subsidies as follow:
HOW MY COMPANY CAN APPLY AS REGISTERED EMPLOYER?
Step 1 : Fill up the form
Step 2 : Contact Kenny at 0126402040 to know more
WHAT IS THE COMMITMENT LETTER FOR?
The letter serves as an official letter to your company's intention to hire. So, when the telent graduates from the program, you can take them in fast and easy.
WHAT IF I DON'T HIRE, CAN'T FIND SUITABLE ONE OR DECLINE THE CANDIDATES?
There will be no legal obligation to hire - zero risk. So, it's ok if you choose to not hire if you see the conditions don't fit your expectations.
Interested Company Please Contact us
Kenny Lee 012-6402040




E-Mail: kenny@dmctraininghub.com